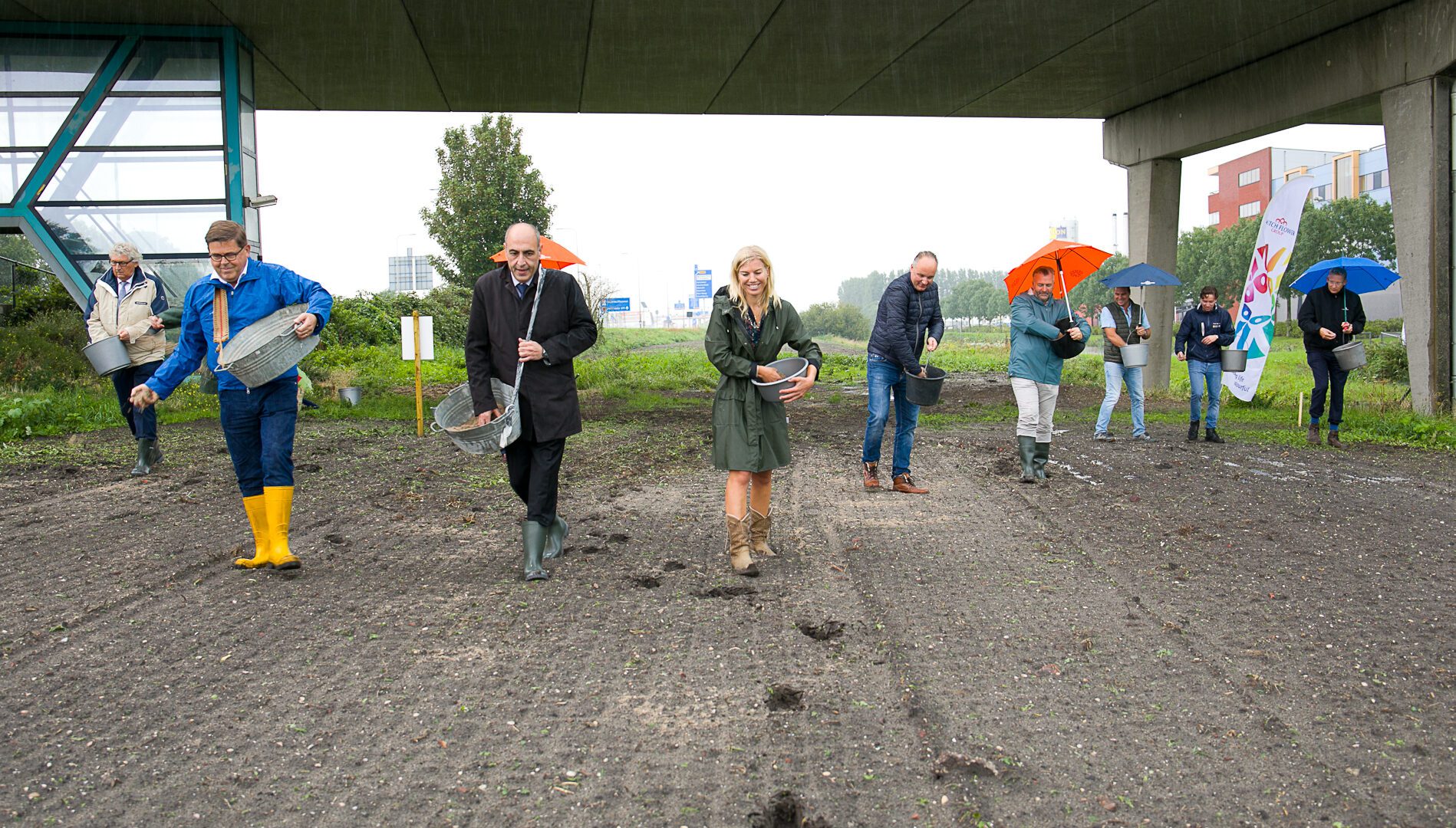 05 September 2018
FIRST HONEY HIGHWAY CREATED AROUND SCHIPHOL
On Wednesday 5th September, directors Adnan Tekin and Joost Wagemakers of Stichting Leefomgeving Schiphol, together with Harry Brockhoff and Marcel Zandvliet of Dutch Flower Group, enthusiastically scattered flower seeds along the Legmeerdijk, which borders the VBA-Zuid business park. Next spring, this will blossom into Honey Highway Aalsmeer, the first Honey Highway around Schiphol: a paradise for bees. 
At this moment there's nothing to see, but by next spring the Legmeerdijk's ploughed soil – which has been lightened with a top layer of sand – will be a paradise for bees. With this, the first Honey Highway around Schiphol (Honey Highway Aalsmeer) will become a reality. Today, representatives from the project's initiators Dutch Flower Group and Stichting Leefomgeving Schiphol, together with Honey Highway, officially got things underway by spreading wild flower seed over 500 m2 of the 16,000 m2 area to be sown.
Dutch Flower Group is also on a mission to save the bees 
Honey Highway Aalsmeer is a project set up by Dutch Flower Group (DFG) in collaboration with Stichting Leefomgeving Schiphol. Harry Brockhoff, CFO of DFG says: "As Dutch Flower Group, we believe in doing business in a way that's involved with local communities, with visible contributions to improving the living environment. Honey Highway and Stichting Leefomgeving Schiphol, with their respective objectives, are perfect matches for ours. It was for this reason that we sought the connection with Stichting Leefomgeving Schiphol, who are happy to participate in this wonderful project that came into being through us and the residents and businesses of VBA-Zuid, via its Owners' Association".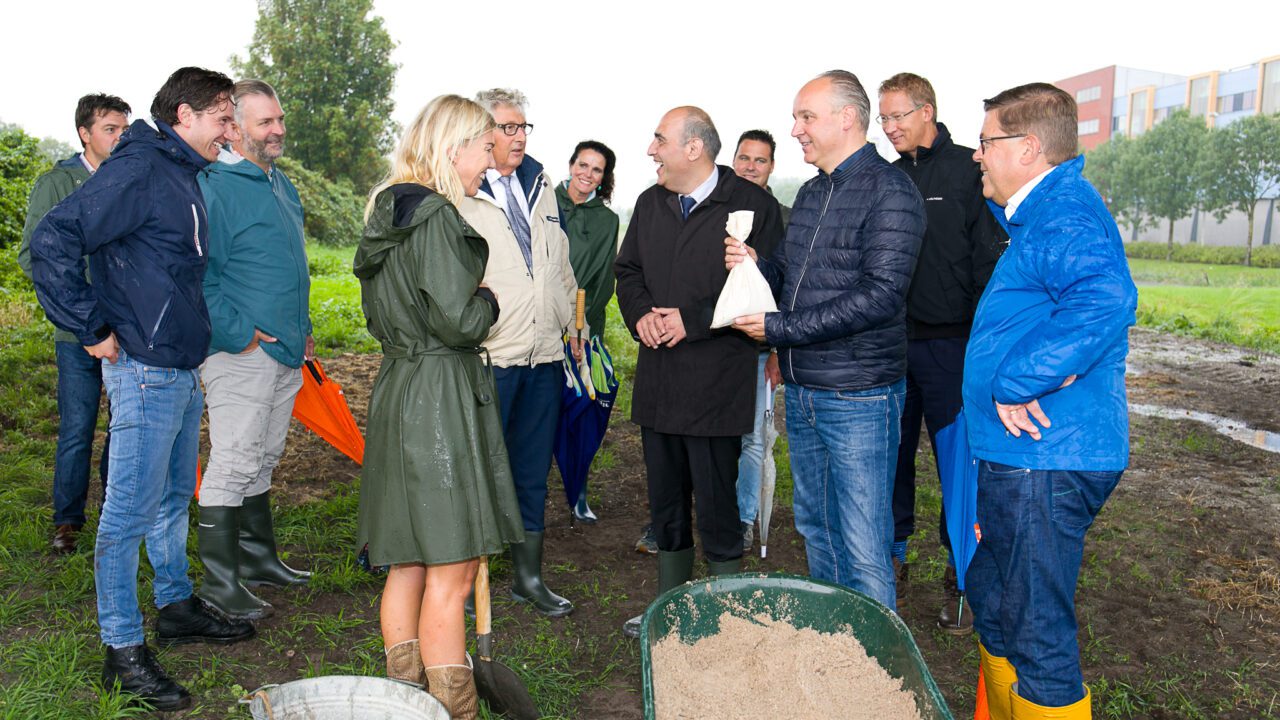 "This is a pilot and a wonderful example of how an idea can be beautifully implemented when the right partners come together. That is why I, as the delegate for Nature and Schiphol, can only rejoice at these kinds of initiatives. There are opportunities to deploy this pilot more broadly, which is something Stichting Leefomgeving Schiphol also recognises. So I see this as a wonderful beginning for having even more flower-filled verges around Schiphol which create a green, healthy environment", says Adnan Tekin. 
Joint effort 
The wild flowers that will bloom into a colourful display will continue to do so if we pay close attention to their growth and development. "We ask the people in our companies and those in the business park to keep an eye on the flowers and bees as things develop. This is simple to do, just by taking a lunchtime walk along the Honey Highway and protecting the area together", says Marcel Zandvliet, Director of Marketing & CSR at DFG. "The timing of mowing the flower verges on the dike will also be adjusted to complement the flowers' blooming cycles. VBA Zuid, via its Owners' Association, will ensure this happens". The Owners' Association and Stichting Leefomgeving Schiphol hope to make a positive contribution to the Netherlands' bee population through this project in Aalsmeer. 
Honey Highway
There is a lot of green, protein-rich ryegrass growing in the Netherlands as pasture for dairy cows, but there are too few flowers. Honey Highway is an initiative started by biodynamic beekeeper Deborah Post. She wanted to do something to preserve populations of bees and butterflies and bring them back to the Netherlands. Quickly and on a large scale. After all, people need bees to pollenate fruit and vegetables, so they are at the beginning of our food chain. By planting the verges beside our main and local roads, dikes and railways with 44 types of native wild flowers, which will bloom year after year, we create a lasting paradise for bees. The business community is increasingly embracing Deborah Post's initiative.

0
turnover (2021)

0
bouquets to consumers every week

0
flowers to consumers every week

0
plants to consumers every week

0
export countries

0
% sustainable sourcing
0
countries with offices

0
employees (FTE)

0
countries sourcing