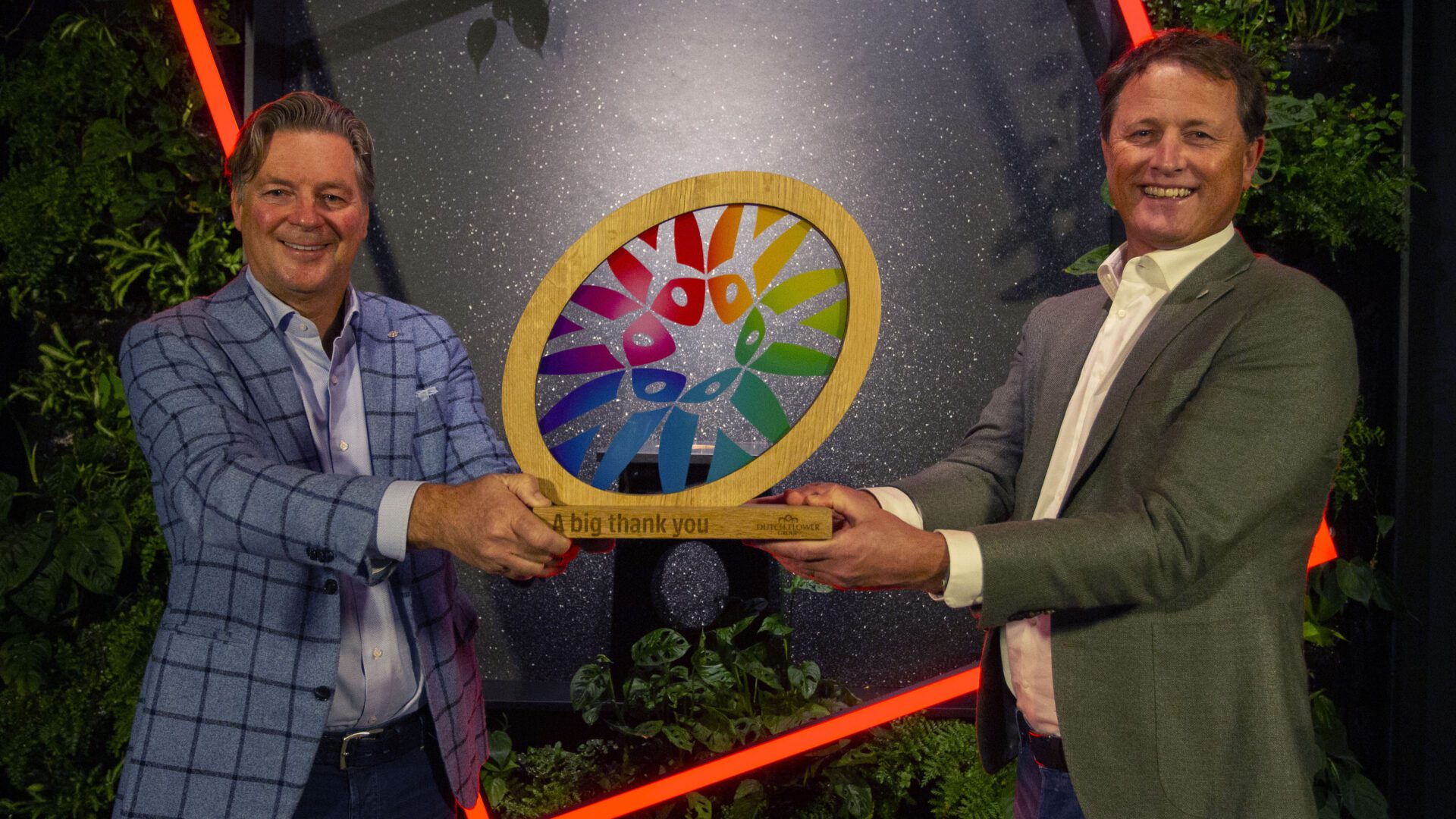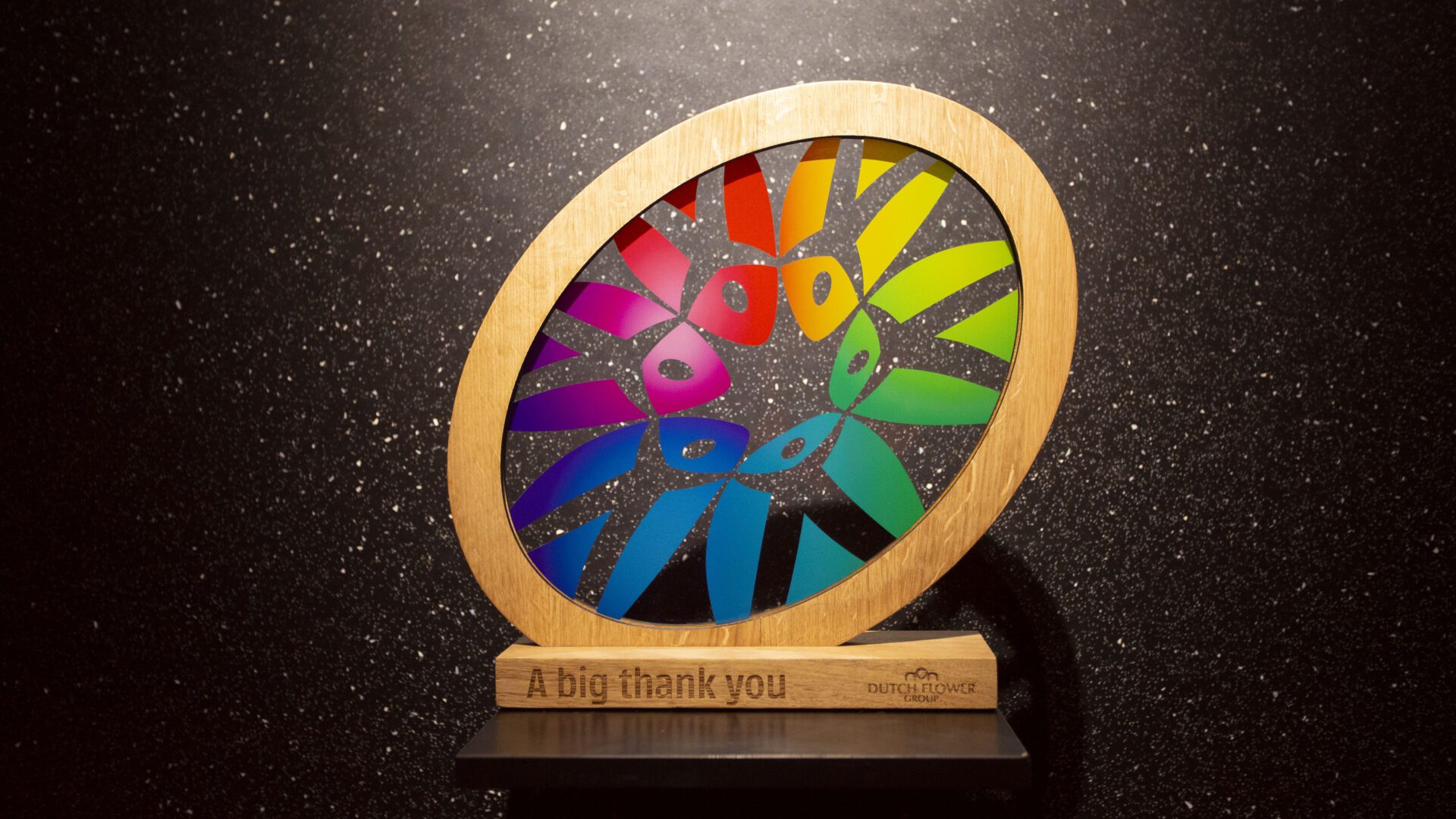 05 November 2020
'BIG THANK YOU AWARD' FOR ALL DUTCH FLOWER GROUP GROWERS
Exceptional times, exceptional Dutch Flower Awards
For almost 20 years, it has been a tradition for Dutch Flower Group (DFG) to recognise its growers in early November by handing out Dutch Flower Awards for various categories. Due to the exceptional circumstances in 2020, DFG will symbolically present just one, very special award this year. The 'Big Thank You Award' will be given to all of DFG's growers, both in the Netherlands and abroad.
Because of the COVID-19 situation, this year Marco van Zijverden (DFG CEO) made the presentation digitally, instead of at the annual Royal FloraHolland Trade Fair. He did this together with Jan van Dam, who will succeed him as CEO in 2021. Via a video taken at the colourful FloriWorld attraction in Aalsmeer, the duo presented the 'Big Thank You Award' to every one of DFG's growers, in the Netherlands and around the world. Marco van Zijverden said: "The cooperation between DFG and our growers is incredibly important and we want to really highlight that." Jan van Dam emphasised how he intends to continue strengthening this cooperation through nurturing personal relationships with all the growers when he takes over the role of CEO.
Together we are strong
The many consequences of the COVID-19 measures, and their impact on the international horticulture sector, have made 2020 an eventful year for Dutch Flower Group. Van Zijverden pointed out how the sector's reaction has been testimony to its willingness to connect among its various businesses and supply chain partners. Among other things, he called out the "Let Hope Bloom" campaign, done in cooperation with Flower Council Holland. And the "Bouquets Against Loneliness" campaign, in which, together with various supply chain partners, no fewer than 150,000 colourful bouquets were given to lonely elderly people throughout the Netherlands. This project was influential in raising flowers and plants back up consumers' gift lists. Online flower sales have also seen a huge boost this year.
DFG 2020 forecast and strategy for next few years
This year, DFG expects to turn over more than €1.6 billion between its more than 30 companies. A 7% drop from 2019. Despite the turbulent year, DFG will still make a profit in 2020. DFG's strategy moving forward revolves around 5 themes: more intensive cooperation with growers, customer focus, development of the internal organisation, further digitalization and the establishment of sustainable supply chains.
Marco van Zijverden will step down as CEO on 1 January 2021, but will remain closely associated with Dutch Flower Group as chairman of the Advisory Board. Jan van Dam will succeed him as CEO.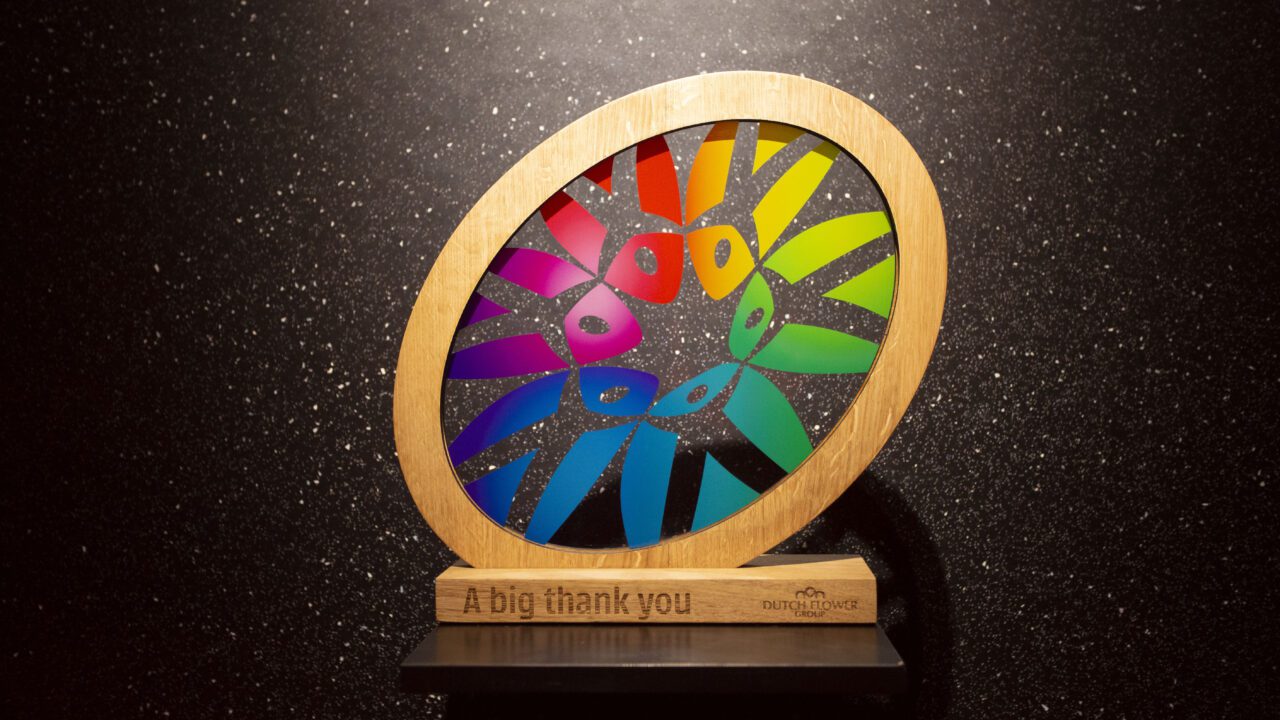 More information about this subject?
Please contact:
Brit Fopma

Communication Manager

0
turnover (2021)

0
bouquets to consumers every week

0
flowers to consumers every week

0
plants to consumers every week

0
export countries

0%
sustainable sourcing
0
countries with offices

0
employees (FTE)

0
countries sourcing